Producer | Sabra Gertsch
Director of Photography | Jeff Christian
Editor | Jeff Christian
In the space under the stairs, walls of paper sketches close in around the artist at the drafting table. Shogo Ota stood over his new design, his hair a long, twisty black knot at the nape of his neck, his red plaid shirt a surrender to Pacific Northwest persuasion. As Seattle drizzled on the window behind him, he turned up the music and examined his sketchpad and the idea he calls simple: using one line to connect people.

"Just drawing everybody together in one line. People together. That sounds pretty peaceful to me"
Thousands of people will have the opportunity to consider Shogo's simple idea. One continuous line, whose beginning was on a sketchpad in the artist's small studio under the stairs in his basement apartment, will be wrapped around millions of green cups and handed to Starbucks customers coast to coast.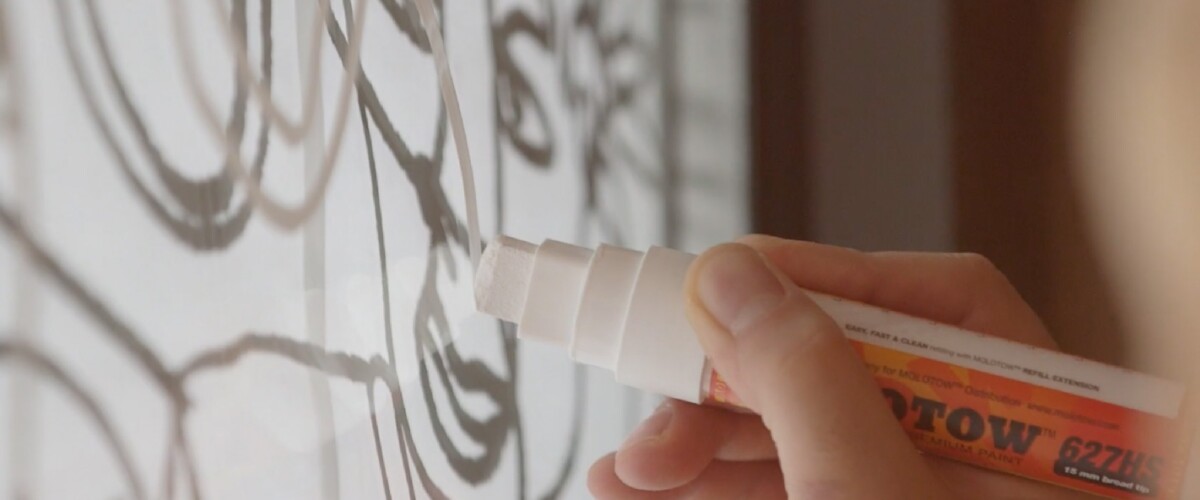 "It's kind of a weird feeling and also kind of nervous about it, too," he said. "I couldn't have imagined, didn't imagine yet, that I could see my stuff everywhere in the States!" When Shogo moved to the United States 14 years ago to study art at the University of Idaho, he didn't speak English. In fact, he didn't know where Idaho was on the map. He was in America, where he knew one person, to fulfill his mother's wish for him to study abroad. After being rejected by five Japanese universities, she hoped an education and his art would secure his future. Shogo studied. He won an art contest. He won two. He earned an internship as a graphic design artist for a small Seattle firm, and in 2012 celebrated the establishment of his own company, Tireman Studio. In 2014, Starbucks began selecting Shogo's art for presentations, ranging from a community poster series to a hand-painted mural on the tall wooden doors of the new store in Ferguson, Missouri. And most recently, he was commissioned to create the artwork for the green cup.
"I think they made like 50 or 60 different ideas, and [they said] I think we only use yours and make the cup! I'm talking about like the cup for all the states, the shops. And I was like, oh! Yeah! Let's do it!"
One line and 132 faces appear on the green cup, each one a caricature representing members of a global community. The faces of Shogo's own friends and his family inspired him: his 94-year-old grandmother in the hospital in Japan, his wife, his toddler son, his brother, his buddy from Zimbabwe, a friend from Uruguay, and the list of those who empowered his imagination goes on. "Everybody on the Earth. People should feel and think everybody is happy together. I feel like I'm doing something good" he said. On the grey day in Seattle, the faces in his art stared back at Shogo. One was drawn with intention. "I drew my mother. She is there. She is the reason I moved here in the first place."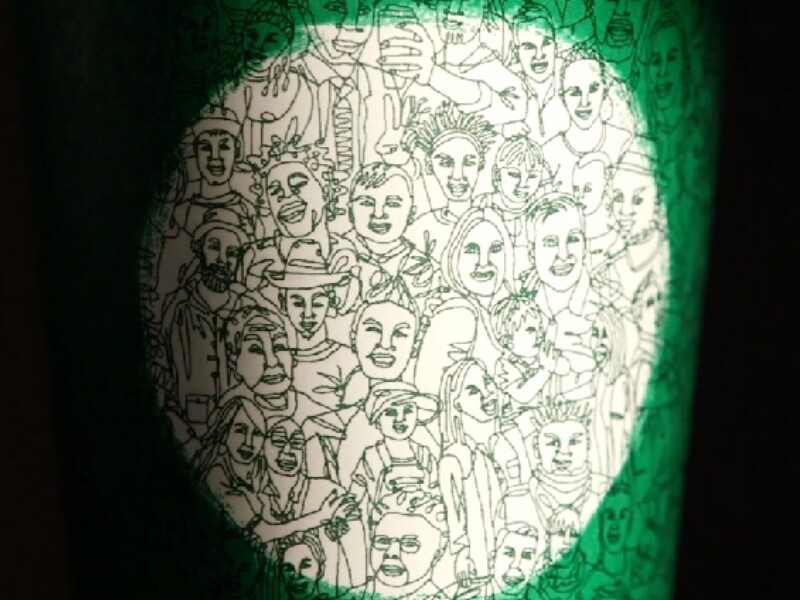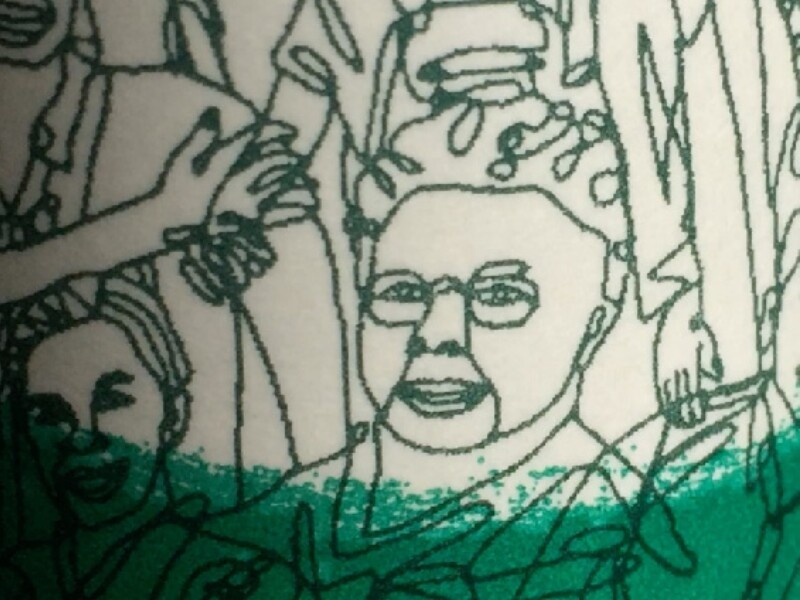 Shogo plans to send a green cup to his family in Gifu, Japan. It's his love letter from Seattle, carefully crafted one line at a time.